I'm back for another outfit post!!
Technically I should be revising, but I looked at my camera today and saw that I took these shots probably last week (still during the hols), so I thought I'd post these today because I've got another set of outfit shots to do which includes 3 different looks!
This is basically what I wore on a random day a week ago. I like how my tights go with my shoes, but don't know about the blue shirt under the jacket... Nonetheless I tried wearing these blue glasses, and I really liked how they looked with all the blue items! Need to wear them more :)
My camera wasn't in focus for ALL of them D:
Jacket: East End Thrift Store
Blue shirt: American Apparel
T shirt: Miyavi London gig
Tights: Primark
Shoes: Beyond Retro
Glasses: Camden
my cat self is back! need to give it a name...
I have pudding head already, so I bought a new hairdye...
I love using foam hair dyes, only because the colour is a bit more washed out.
This one's called 'Champagne Pink' from Freshlight, I heard it turns your hair an ashy pink brown, which sounds amazing (I don't want pink hair, I want a pink undertone. In Japan they call it ピンク系).
My hair won't actually turn this light, because it's not bleached to begin with. It'll be much darker and browner, but just a little bit ashier :)
Next, onto my newish circle lenses! I got these
Puffy 3 Tone Browns
from
Honeycolor
absolutely ages ago (before I started uni I think, so that's a longgggg time already!) but I rarely wear it because they're legit circle lenses: they do a LOT of enlarging. I normally wear 14mm ones which is only a little bit bigger than my normal iris, so it looks completely natural in size. These ones are 14.5mm which is HUGE because for me. I bought them because I know they are known for their opaque colour (ie, the colour shows up really well on dark eyes), but I've only worn it to dress-up parties and clubs. But recently I wore it out for the first time and it didn't feel that bad. They definitely do feel thicker and bigger, so I'm still not sure whether I'd wear them on an everyday basis...
But here is what they look like! Excuse the selcas. I haven't taken some in ages and I went a bit overboard LOL
So as you can see they're a greenish, hazel-y brown colour with an orange inner rim. There's a very thin limbo ring on the outer rim but to me it looks completely normal compared to normal black limbo rings. I wouldn't say they look natural because they make my eyes look MASSIVE and quite alien like. It actually scared me a bit because I know my eyes are a lot smaller in real life haha. I love how they look in the greyscales because they're so light!
I also ordered 2 new pairs because Honeycolor did a promo since I always buy from them XD
I ordered the Neo Queen Browns and Beaucon Shimmer Greys. They look like this:
Neo Queen Browns
I think these look a lot more subtle. They're a bit more hazel-y than the Neo Glamour Browns, and has green undertones, which I like. I have the Neo Glamour Greys, which dramatically changes my eye colour to an icy grey, but in a natural way lol. The limbo ring is sort of broken up and very thin. They're a lot more honey coloured than my current everyday pair: the Geo Tricolor Browns, which is 14mm. Neo Queen Browns are 14.2mm, so it should be a bit enlarging but not as weird as the Puffy 3 Tones above. I'm really looking forward to them!
Beaucon Shimmer Greys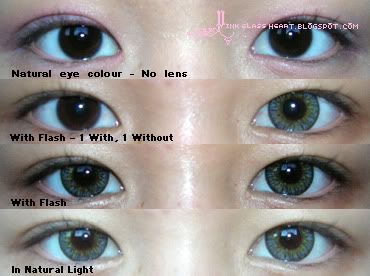 To me, they're basically exactly the same as the Geo Tricolor Greys, which was my everyday pair before the Geo Tricolor Browns. Except for the fact that there is that greenish inner bit again (I like greenish eyes haha). I wanted to get a grey pair because my Geos were already like 2 years old and I hadn't worn them for around a year so they've definitely soaked up all the minerals from sitting in the same eye solution for so long. I wanted to get ones which are a lot more subtle than my Neo Glamour Greys, which are not only grey but ICY grey. I've NEVER tried Beaucon before so I'm both excited and nervous! I hope they're not too thick and uncomfortable... Before I got the Freshlook Hazels, which are the most GORGEOUS colour but so uncomfortable because the outer ring with so wide D:
So today's post is done!!! I've got another outfit post to do as I mentioned.... Maybe I'll do them later or tomorrow or something! Gotta do more maths now :D xxx